This 3-part podcast series series is a production of ListenDeck, a podcast & video production company.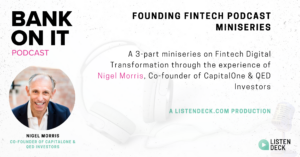 You can listen to each episode below as they release.
This series is about the beginning of fintech and the early stages of financial technology as it transitioned from traditional banking into its digital transformation as we know it today.
We follow the story from the journey and growth of CapitalOne (the first modern fintech) & QED Investors (a top global fintech VC firm) through the experience of Nigel Morris co-founder of both CapitalOne and QED Investors.   In this series we have so many amazing people such as Matt Harris from Bain Capital,  Frank Rotman from QED Investors,  Hans Morris from NYCA, Nigel Morris & many more.
Episode 1 – From sleepy regional bank to the creation of CapitalOne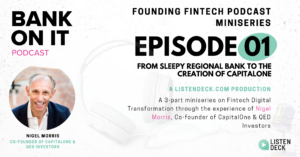 In this episode you'll hear the story of how Nigel went from a consultant to working at a regional bank and how Nigel & Rich turned that regional bank into the spinoff of CapitalOne.
Episode 2 – from CapitalOne to QED Investors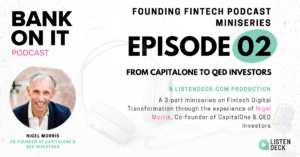 In this episode you'll hear the story of how Nigel went from CapitalOne to co-creating QED Investors with Frank Rotman.
Episode 3 – QED Investors & the Future of Fintech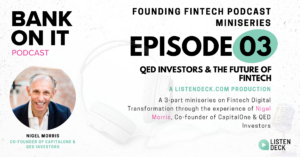 In this episode you'll hear from investors such as Matt Harris who know the impact that Nigel & QED Investors has had on finance as a whole.  Plus some trends happing in fintech today.